Carnock is a pretty county village,(see Carnock), with a local pub "The Old Inn" that serves good food and beer every evening; there's also a grocery shop in the village.

Although situated on the outskirts of a small village Carnock Farmhouse Bed and Breakfast are ideally positioned for visiting The Kingdom of Fife,   Edinburgh, Central Scotland, and The Forth Bridges(viewed by live camera)
There's plenty of things to do in Fife, from a gentle stroll along the beaches of Fife to Driving racing cars or 4×4 vehicles over rugged terrain at Knockhill Racing Circuit (click mini car picture)!!
Dunfermline once the ancient Capital of Scotland where Scottish Kings and Queens are buried is a great place to visit. Try the Carnegie Hall for shows, film and comedy, and there's a multi film complex showing the latest films. Visit Andrew Carnegie's 'birth-place museum, discover how the great American-Scot lived and worked, or Abbot House,Dunfermlines' oldest house
Other outdoor activities are well provided for; especially Golf :Fishing (sea, river, & loch) : Football &Amateur Athletics.
Who'd miss visiting St. Andrews one of Scotland's oldest University Towns and home of Golf, it's also an excellent place to buy souvenirs!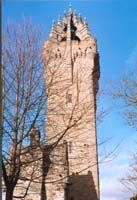 Nearby Culross is a restored 16th-17th Century village
A little further a field visit The Falkirk Wheel; The World's First and only Rotating Boat lift, then go on to Stirling and see William Wallace's' Sword at The Wallace Monument, and admire the sheer majesty of Stirling Castle.
Whisky: No trip to Scotland would be complete without a visit to a Whisky Distillery. The Famous Grouse Whisky Distillery has something to keep every member of the family interested.
Business : We are also within reach of business centres/parks in Fife and the Lothians, eg. Rosyth Europarc / Leisureparc, Carnegie Business Park, BSkyB and Mossmorran.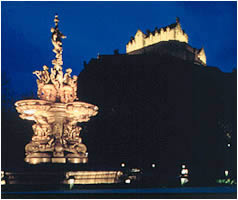 Take the train to Edinburgh from North Queensferry Station, park the car at the station & take the train across the Forth Rail Bridge. We are just 40 minutes from Edinburgh City Centre where you'll find a wealth of things to do.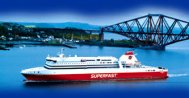 We are ideally situated for travellers using the
Rosyth-Zeebrugge Ferry.
Email
Mrs. Kathleen Craig
Carneil Farmhouse Bed and Breakfast
Carneil Road. Carnock by Dunfermline. Fife. Scotland. KY12 9JJ
Tel +44 (0)1383 850285
Mobile: 07840597839